Mitsui Fudosan celebrated the completion of two office buildings with an evening reception of more than 200 guests to mark the completion of the Gateway Central and Gateway West buildings at White City, West London.
The two commercial properties provide over 300,000 sq ft of floorspace, further growing the dynamic employment cluster at White City which was recently launched as the White City Innovation District.
The architects for Gateway Central were Allies and Morrison; Gateway West has been designed by Gort Scott. The construction of both buildings was managed by Sir Robert McAlpine.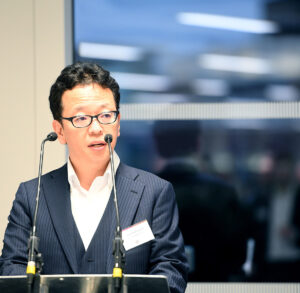 The reception was held in the Gateway Central building where Tomoo Nakamura, Chief Executive, Mitsui Fudosan UK thanked all those attending.
He reiterated how, despite the many challenges the development had faced during its three-year delivery, the team had been able to deliver a project of the highest design quality which '…represents a significant contribution to the economic and social regeneration of the area.'
Guests included representatives from Mitsui Fudosan's development partner, Stanhope and AIMCo, the architects and the wider Sir Robert McAlpine project team.
Gateway Central building is the new home to L'Oréal, who will complete a fit out in preparation for their migration from Hammersmith in the Spring of 2023.
A third building, Gateway East, received planning permission in 2018. It is scheduled to be delivered in the future to complete the development at White City Place, complementing the emerging Imperial West campus on the other side of Wood Lane.
The first phase of the project to reinvent the Grade II listed Television Centre building with its iconic rotunda as well as to develop the surrounding 14-acre site was completed in 2018.